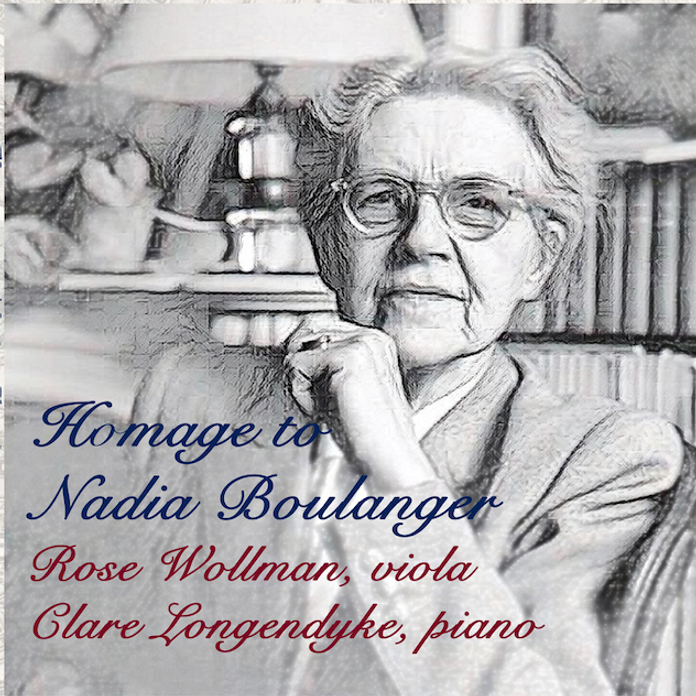 Homage to Nadia Boulanger
About this project
The mission of the Wollman-Longendyke Duo is to bring the best of viola and piano music to our audiences. In pursuit of this, Rose Wollman and Clare Longendyke have premiered, transcribed, and adapted new viola and piano duo works, while unearthing lesser-known gems by well-known composers. This album represents another fundamental goal: to prioritize music by living composers, women, and minorities, and music that deserves to reach wider audiences. Nadia Boulanger taught a generation of influential and innovative composers and all composers on this album represent Boulanger's genius and diverse lineage. On the 40th anniversary of her death, Rose and Clare are thrilled to honor her legacy with this album.

Astor Piazzolla (1921-1992)
1. Le Grand Tango
Rose and Clare worked with our producer Daniel Stein and Argentinian pianist Julian Peralta on a new edition of this piece, and Rose is  working on the sheet music for publication. Piazzolla was a famous student of Boulanger and he wrote tangos for traditional tango orchestras as well as classical works inspired by tango. This piece was dedicated to the legendary Russian cellist Mstislav Rostropovich but was written for cello or viola and piano, so we feel no qualms about claiming it for ourselves! Piazzolla wrote this piece in a way that an experienced tango musician would embellish and phrase it naturally, but a classical musician can easily sound square and stilted. This new edition aims to help classically trained violists and pianists play it like true tangueros!

Nadia Boulanger (1887-1979), Three Pieces for Viola and Piano (arr. Wollman)
2. Moderato
3. Sans vitesse et à l'aise
4. Vite et nerveusement rythmé
Nadia Boulanger wrote relatively little over the course of her career because she decided to focus on teaching fairly early. The pieces she did write, however, are lovely and deserve to be performed. Rose created an arrangement of these three pieces for viola and piano from the original cello and piano. Most of it is true to the original, but she took some liberties with embellishments and register. 

Gabriela Lena Frank (b. 1972), Cinco Danzas de Chambi
5. Harawi de Quispe
6. Diablicos Puneños
7. P'asña Marcha
8. Adoración para Angelitos
9. Harawi de Chambi
Gabriela represents the next generation of Nadia Boulanger's influence. She is a great-grandstudent of Boulanger, and embodies the diversity and ingenuity of Boulanger's legacy. Cinco Danzas de Chambi is based on five photographs by the Peruvian photographer Martin Chambi. The photographs depict rural Peruvian life, rituals, and society. Franks's music is deeply influenced by traditional Peruvian instruments and forms and she imitates these influences with evocative extended techniques in both the viola and piano parts.

More information about Gabriela Lena Frank can be found at https://www.glfcam.com/people/gabriela/

Emile Naoumoff (b. 1962)
10. Sonata for Viola and Piano
Emile Naoumoff was one of Boulanger's last students, and she referred to him as "the gift of my old age". He studied with her from age 8 until her death in 1979 when he was 17. Naoumoff is a piano virtuoso and a prolific composer. He teaches piano at Indiana University where Rose and Clare both did their doctoral work, and they were lucky enough to work with him on his sonata in preparation for this recording. This sonata has elements of Shostakovich, Debussy, and Schoenberg, but is undeniably Naoumoff. 

Click here for a video of Naoumoff (age 10) working with Nadia Boulanger
Click here for Naoumoff's book My Chronicles with Nadia Boulanger

More Information about Emile Naoumoff can be found at https://www.emilenaoumoff.com/